1U 2U 3U 4U (12 Core up to 96 Core)
1U Rack mount Optical Patch panel

1U rack mount cabling on server racks is the one of the most common types in data centers. Newocom 1U fiber optic patch panel cabling solution is good for easy cable management, including 1U fiber enclosure, 1U fiber optic adapter panel, 1U fiber patch panel with cable management panel and lacing bar. The 1U rack mount fiber enclosure is designed with SPCC steel rack and can hold up to 4 fiber adapter panels . The front panel is removable and you can replace it with Our fiber optic adapter panel. The dimensions for this panel are: 50 H x 450W x 298 D (mm)

NeWocom 1U 24 port patch panel
In addition, the rack mount fiber patch panel with cable management panel and lacing bar, offering multiple choices for fiber cabling, can also be installed on a rack with ease. As it can be separated into patch panel, management rings and lacing bar, this detachable horizontal cable management panel can meet different needs for your application. For example, you can assemble the intact management panel with an adapter panel while you can just use management rings with a 18CH CWDM MUX as well. For 1U patch panel we have 12,24 and 48 core capacity but 12 and 24 core is our recommend because although 48 core is possible to fix in 1U patch panel by Quad LC adaptors but management of cables may needs a professional technician and it too complicated.

In conclusion, this 1U fiber optic patch panel cabling solution is an integrate, effective and neat cable management to help you manage your cabling system in a relatively perfect way!


2U Rack mount Optical Patch panel(48 Core up to 72 Core)
2U fiber enclosure for use with both single mode and multimode fiber types fitted with the most popular connectors including FC, LC and SC. This rack mount fiber tray features 48 slots for flanged fiber couplers (the most popular kind). Instead of buying fiber patch panel LC, you simply add the LC couplers to this chassis. The dimensions for this panel are: 88 H x 450W x 300 D (mm)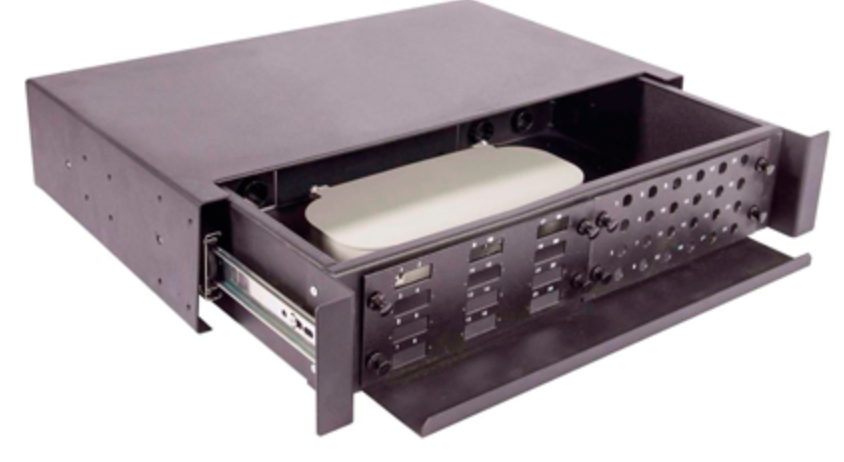 The NeWocom rack mount fiber optic patch panel solution offers incredible flexibility to mix and match different fiber types and connector types in a single fiber patch panel enclosure. This rack mount fiber patch panel features telescoping rails, which allow for easy access to both the front and rear bays of this fiber rack mount tray.
Choose the reliability and flexibility of the NeWocom fiber rackmount enclosure. This rackmount fiber enclosure comes in a powder coated black, that will blend in nicely with your existing datacenter, while keeping all of your critical fiber connections secure.


3U Rack mount Optical Patch panel (Up to 96 Core)
The NeWocom 3U Rack Mount Patch Panel can accommodate up to 96 optical fiber connections (using SC, FC,St, MT-RJ or LC connectors). The connector panel is mounted on a sliding drawer for easy access to the back side (cable side) of the panel. The NeWocom 3U Rack Mount Patch Panel can be used with either optical fiber Single ended patch cords or field-installable connectors. If optical Single-ended patch cords are to be used, organizer trays are easily accessible via the removable front access pull-out drawer. The dimensions for this panel are: 130 H x 450W x 380 D (mm)
Applications
Central office equipment bays
Equipment racks or cabinets
Termination of fiber cables, either in-building or TELCO application
Telecommunication rooms or main distribution rooms
Intermediate Cross-Connect, horizontal Cross-Connect or horizontal cabling transition points.