The NeWo HC ODF is an ETSI all-purpose metal rack designed to reach the maximum modularity and flexibility to allow easy on-site assembly. The design suits any specific application changing the rack configuration composed of modular units: a central frame and side-extensions.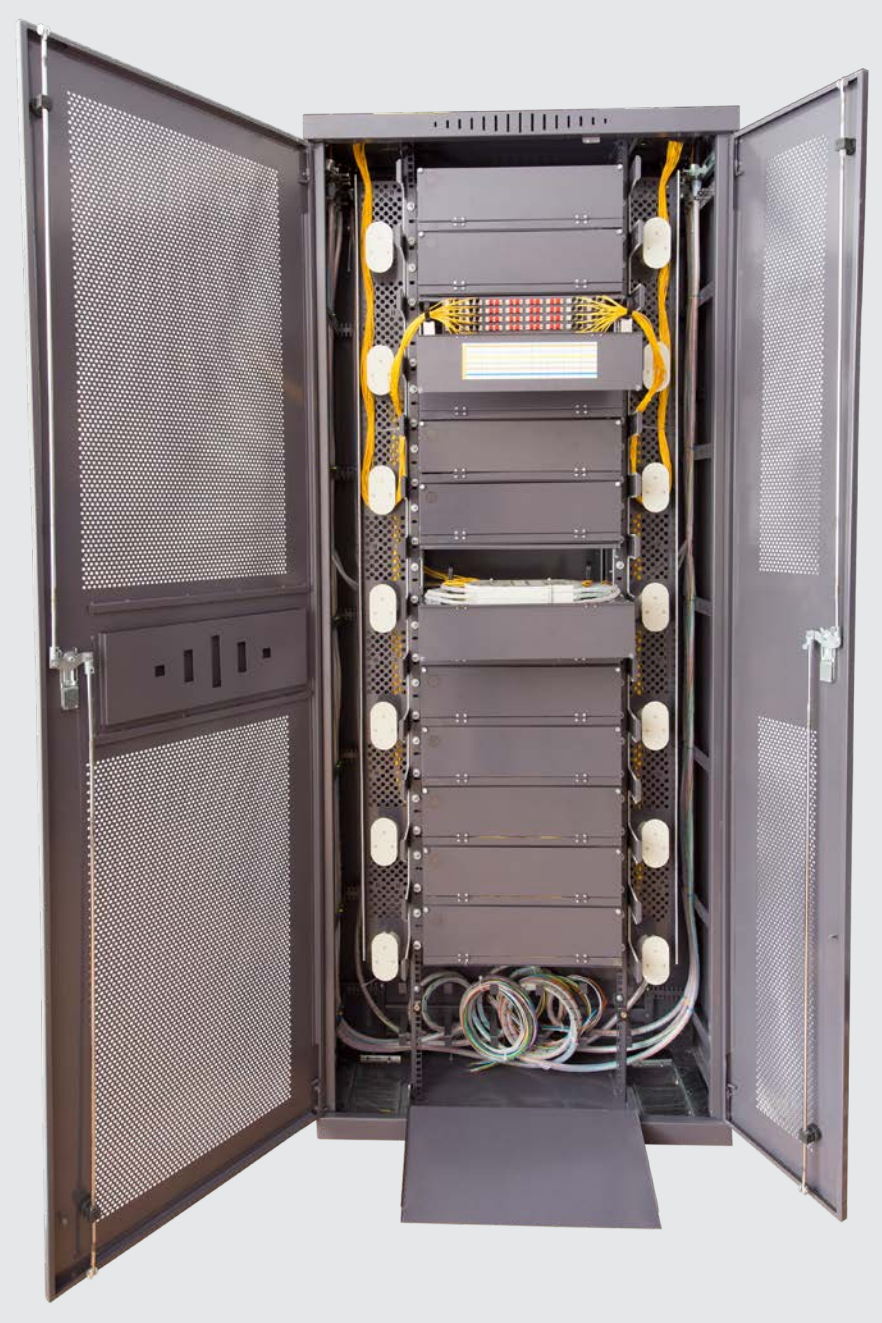 These can be easily combined to create different layouts. Optical cables and patch cords are organized, stored and mechanically protected in the side extensions of the rack.
The fibers can enter the shelves from the left and right, adequate bend control on all fibers routing and complete flexibility in patching from one side to the other, without the need to pre-calculate the individual cable length.
The 900 mm wide rack has an integrated and easily accessible patch/trunk cable management system. This provides defined patch cable and trunk/breakout cable-slack management within the rack. The NeWo HC rack was developed specifically for the requirements of backbone cabling (main distribution area and meet-me-room) but can also be mounted and integrated as a meet-me room/distribution point directly on the sides of existing enclosures and rows of racks.


FEATURES
•Only 300 mm deep and fully accessible from the front
•C-shaped frame with 19" rear mounting rails for installation-friendly access from the front
•Up to 1008 SC ports
•Cable ties for trunk/breakout cables and loose tube cables (optional)
•Overall bend radius limitation for optimized mandrel arrangement
•Quick-release doors and side panels for baying racks together side by side (tool-free)
•Mount against an unused wall or at the end of row, or back-to-back mount on a single floor tile of 600 mm
•Removable back-panel section for baying racks together back to back (Optional)
•Standard cable lengths within the system rack
•Top, bottom or rear cable entry with large apertures for all cable types, sizes and quantities
•Easy mounting of sub-racks and panels with unit position number strips from the front
•Loose tube storage


APPLICATIONS
•Meet-Me Room (MMR)
•Central equipment room
•Telecom data center
•IT room
•Cloud data center infrastructure
•Main distribution frame
•FTTH


NeWo HC Accessories and Configuration
The NeWo HC (High Capacity ODF/OCDF) adapts to any environment and can be configured to meet any requirements. Its large range of accessories facilitate fiber management and optimize cabling.
Accessories offer different items and upgrades to complete the various applications and to optimize NeWo HC rack utilization. All accessories can be retrofitted in the cabinet.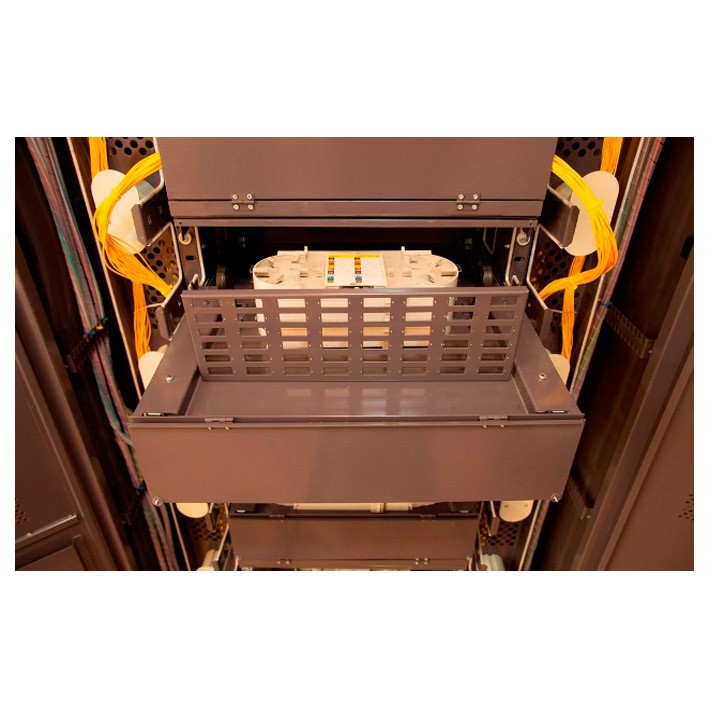 ODF/OCDF Shelf
Normally it is used when we need both fiber splicing and connector coupling. 3U fiber enclosure for use with both single mode and multimode fiber types fitted with the most popular connectors including FC, LC and SC. This rack mount fiber tray features 72 slots for flanged fiber couplers (the most popular kind). Choose the reliability and flexibility of the NeWocom fiber rackmount enclosure. This rackmount fiber enclosure comes in a powder coated black, that will blend in nicely with your existing datacenter, while keeping all of your critical fiber connections secure.

ODF/OCDF Shelf
An
optical distribution frame
(ODF) is a 3U Shelf used to provide cable interconnections between communication facilities, which can integrate fiber ,fiber termination, fiber optic adapters & connectors and cable connections together in a single unit. It can also work as a protective device to protect fiber optic connections from damage. NeWo ODF shelf support all kin of connectors and couplers and we have this ability to customize ODF panel by customer orders.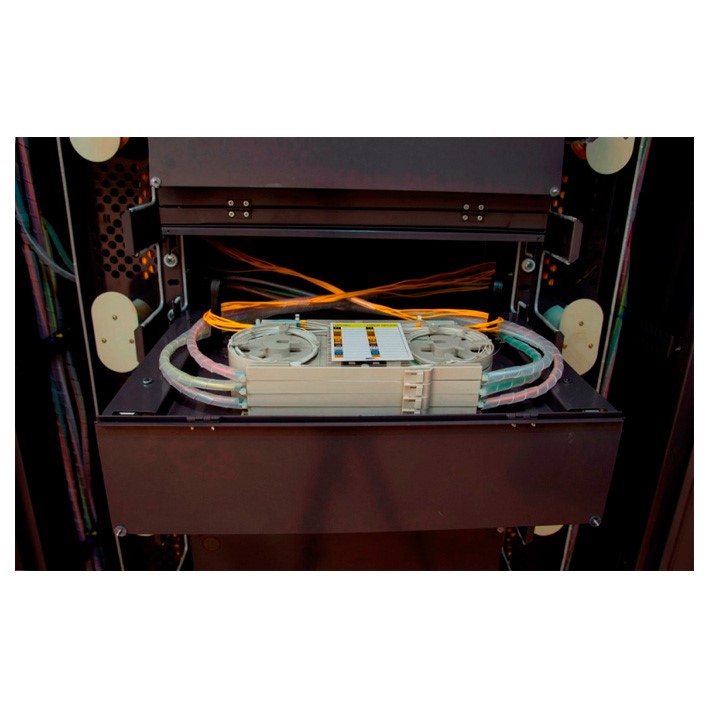 OCDF Shelf
An
optical Core distribution frame
(OCDF) is a 3U shelf used to provide cable interconnections between communication facilities, which can integrate fiber splicing.
NeWocom OCDF shelf has three section for splicing, each section consist of 6 caset with 12 fiber keepers.So capacity per shelf is 72 core and total capacity is 1008 core splicing.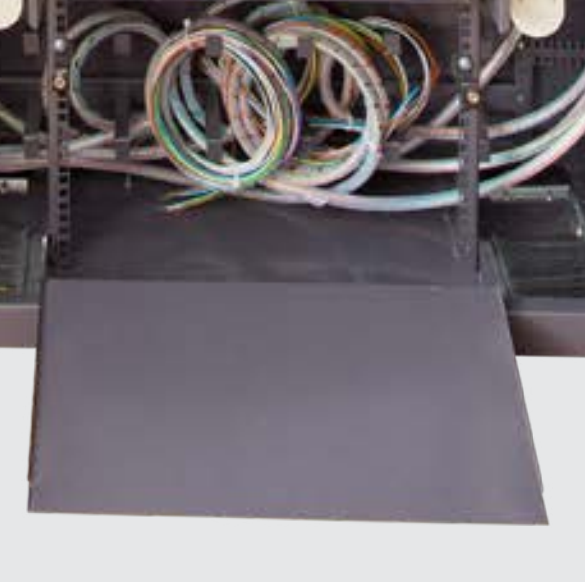 Loose Tube Storage Shelf
The storage shelf is used for coiling fiber tubes that are uncut. For installation of multifiber loose-tube cables and storage of non-spliced loose tubes under splice trays inside the Rack.