3M closure 2178-S
Flexible Fiber Management Solutions
More flexibility for your complex fiber optic network

A full line of closures and accessories designed to protect fiber optic facilities. The 3M™ Fiber Optic Splice Closure 2178 family has earned its reputation for reliable protection of fiber optic facilities. Now, the 2178 family includes many models and configurations for more flexibility to help meet the complex needs of today's fiber optic networks.


Growing technologies require growing solutions.

You want to build reliable FTTP networks faster and cheaper. The expanded 3M™ Fiber Optic Splice Closure 2178 family can help you meet these needs for most applications (including aerial, buried, underground, vault and building entrance) and cables (including loose buffer tube, tight buffer tube, central tube, discrete fiber, ribbon fiber, armored or dielectric).
1-A complete product family
The 3M Fiber Optic Splice Closure 2178 family includes seven distinct models (XSB, XLB, S, SL, LS, LL and XL) in both flame-retardant and non-flame-retardant versions, each with flexibility built-in for growing networks.


2-Future-proof solutions
The 2178 family has scalability and flexibility, allowing you to expand the system based on splicing capacity and the number of cable entry ports. It also allows you to defer your investment until it is required.


3-Easily re-enterable designs
A reusable gasket makes re-entry easy, while bolted halves provide greater security. With the 2178 family, you can re-enter, re-configure and add or remove cables in most outside plant and inside plant environments.


4-Flexible environment applications
The 3M™ Fiber Optic Splice Closure 2178 family can be effectively used in nearly any application including aerial (pole and strand) mount, central office vault, manhole, pedestal and handhole. It can also accommodate most splicing methods (mechanical and fusion) as well as inline and butt splicing configurations.


5-Network flexibility
3M designs a variety of sizes, materials (flame retardant vs. non flame retardant) and configuration options so that our fiber optic splice closures can be used in almost every segment of the network. A single product family meets a range of needs.
Reliable protection for your application
The 3M™ Fiber Optic Splice Closure 2178 family provides secure protection for a broad range of fi ber cables. The 2178 family is engineered to meet common needs and fi eld conditions, with diff erent sizes to accommodate varying splice counts, ideal for wide varieties of applications.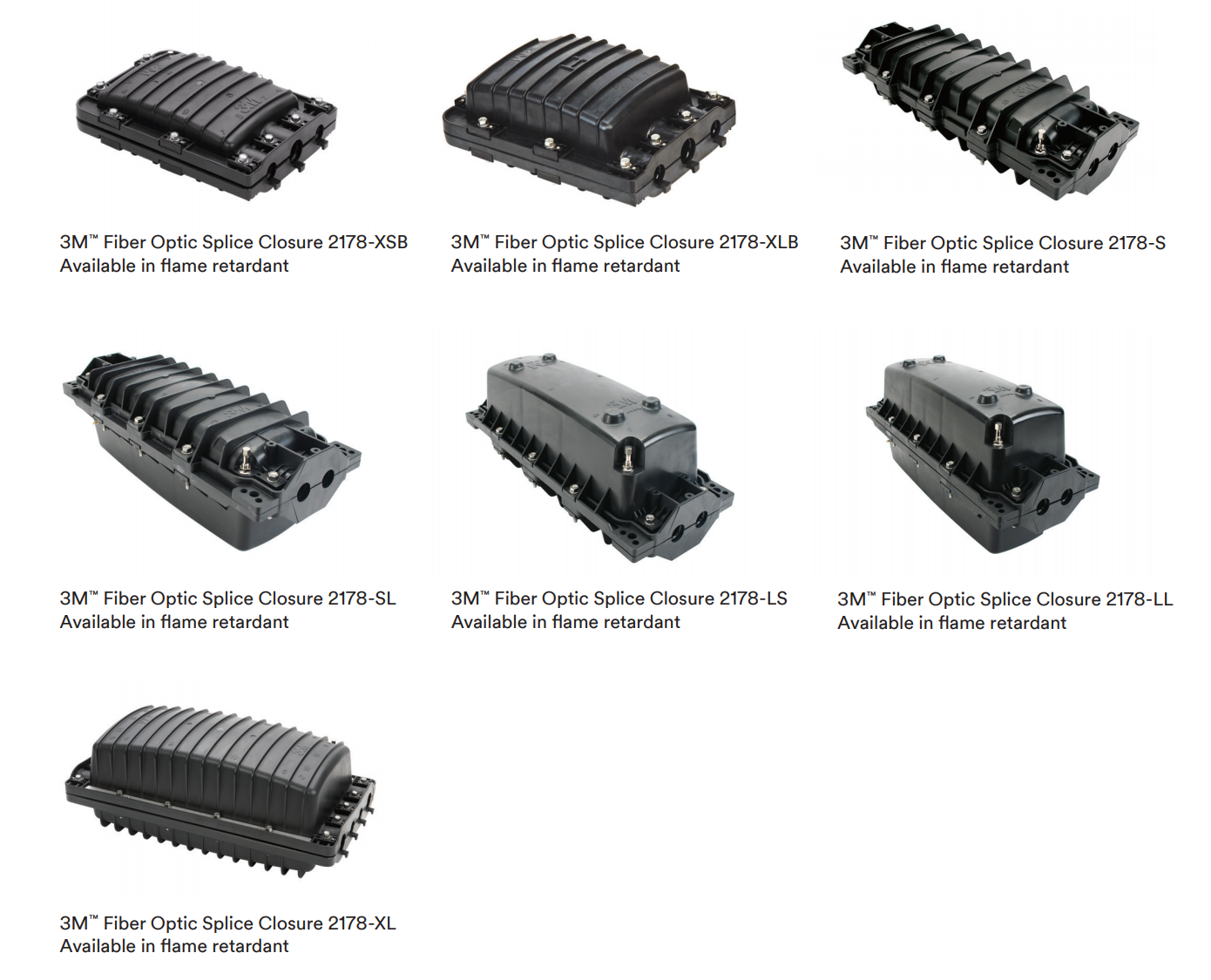 3M™ Fiber Optic Splice Closure 2178